Landscape
---
Title: Going home

Date: 1989

Media: Water color
---
Title: Lonely

Date: 1989

Media: Water color
---
Title: Lonely 2

Date: 1989

Media: Oil
---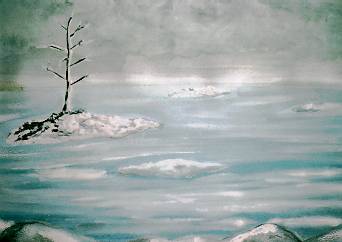 Title: Lonely 3

Date: 1989

Media: Water color

Note: It is not surprising that this water color painting was mistaken as a oil painting several times. Basically watercolor is a transparent medium. But in this painting I applied very thick water color to create the "icy cold" feeling.
---
Title: Wrath

Date: 1989

Media: Water color and salt

Note: Again, the technqiue of this painting is unconventional. I used a painter knife to make the rock texture and poured salt on the paper to capture the moment when the wave hit the rock. Unfortunately this reproduction cannot show the details of the water.
---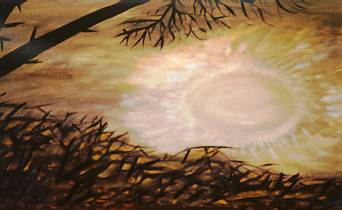 Title: Refection 2

Date: 1989

Media: Oil

Note: Do you think that the image of this painting is totally out of my imagination? Actually, the creation of this painting was inspired by a photo that I took. The photo is also entitled "Reflection 2."
---
More paintings
---
Navigation
Index
---
Copyright ©
---